Gold Supporter
Posts: 1420
Joined: Sat Nov 19, 2011
Location: Out standing in my field.
Cody is a pretty sharp guy. Here's a simple cent sorter he put together.


The problem with the world is that the intelligent people are full of doubts, while the stupid ones are full of confidence. Charles Bukowski
Doubt is not a pleasant condition, but certainty is absurd. Voltaire



---
Posts: 1174
Joined: Thu Nov 03, 2011
Location: Portland Oregon
I wonder if war nickels could get sorted this way?
---
Supporter
Posts: 2625
Joined: Wed Dec 19, 2012
Location: 'Cuse
"Stop a bullet with magnets"? I like the way this guy thinks.
"Those who can make you believe absurdities can make you commit atrocities" Voltaire
---
Gold Jester
Posts: 2806
Joined: Mon Jul 25, 2016
Location: PA
Great YouTube channel. He possesses two traits you don't often see in one person. Endless curiosity and gumption to dig in and investigate/experiment. He had a great series on mining, but he was using black powder for some low-yield blasting and YouTube shut his channel down temporarily. (for some reason) I believe he's since removed most of that series which is a shame because it was interesting and entertaining. If it wasn't for channels like his, (aVe, Mustie1, I Build it and a few others) I would have abandoned YouTube and their censorious ways long ago.
Last edited by
Rik Bitter
on Fri Sep 07, 2018, edited 1 time in total.
*** LOOKING FOR YPS #17 & 18s. Please contact me if you have any for sale.***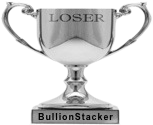 ---
Posts: 272
Joined: Wed Aug 30, 2017
Very cool




---
Turtle Supporter
Posts: 3556
Joined: Fri Aug 09, 2013
Location: Connecticut
That would be cool with a hopper and automatic feeder. Loading coins 1x1 takes way too much time.
---
Posts: 44
Joined: Fri Jul 06, 2018
very cool. too slow by doing one at a time, but a good start to do a penny sorter 2.0
---
---
Who is online
Users browsing this forum: Google [Bot] and 0 guests