Posts: 5850
Joined: Sun Jul 19, 2009
Location: Florida
Awesome!
Take advantage of Mr Rebates and get cash back on tons of Internet purchases. It works, it really works!!! Hit the link below and you are on your way and you will also receive a $5 bonus for signing up.
http://www.mrrebates.com?refid=395845
Don't miss out on Free Cash for everyday purchases.
---
Silver Supporter
Posts: 92
Joined: Fri Jan 19, 2018
Very cool. You've earned something pretty special. Congrats to you both.
---
Gold Supporter
Posts: 2021
Joined: Mon Oct 20, 2014
43 years, yes sir

congrats
"SAUSAGE FLAVORED MEAT PELLETS, GRADE D BUT EDIBLE"
"Better 1 or 2 years early than 1 day late"
---
Posts: 568
Joined: Thu Jun 18, 2015
Location: So Cal
Congratulations Jim and hope you guys have many many more.
Keep moving forward!!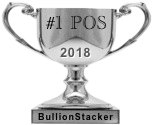 ---
Gold Supporter
Posts: 777
Joined: Sun Dec 20, 2015
Location: Pennsylvania

Awesome!
Congrats on your anniversary!
"I, Franklin D Roosevelt…do declare that said national emergency still continues to exist and…do hereby prohibit the hoarding of gold…"

EXECUTIVE ORDER 6102, issued by US president Franklin Delano Roosevelt on April 5th 1933, banned private gold ownership .
---
---
Who is online
Users browsing this forum: No registered users and 2 guests