Gold Supporter
Posts: 955
Joined: Thu Jul 13, 2017
Congrats!



---
Gold Supporter
Posts: 1258
Joined: Thu Jul 10, 2014
Location: Indy
Happiest of Anniversary days.
Big day around here!
Zelle, square cash, PPFF if we have to. Postal Money Orders, and Personal Checks.
Shipping prices do not include insurance. If you want insurance/registered mail, it's always extra.
---
Gold Supporter
Posts: 1973
Joined: Sat Mar 08, 2014
Location: SC
Happy Anniversary!



---
Site Admin
Posts: 16461
Joined: Sat Jul 18, 2009
Location: Texas
Thanks for all the kind wishes. We just got back from a special dinner.

We actually went to an Italian place across the street.
I'm clearly not very bright.
---
Gold Jester
Posts: 2807
Joined: Mon Jul 25, 2016
Location: PA
*** LOOKING FOR YPS #17 & 18s. Please contact me if you have any for sale.***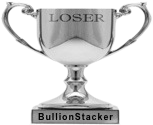 ---
Supporter
Posts: 3525
Joined: Wed Sep 22, 2010
Location: Minnesota
Congrats to both of you.
We have a 50th coming up in two months... probably gonna cost me more than a Happy Meal and Hallmark card this year
"You have a choice between the natural stability of gold, and the honesty and intelligence of the members of government. Vote for Gold."........ George Bernard Shaw
---
Posts: 171
Joined: Thu Dec 21, 2017
Location: U.S.A.
27 years- quite an accomplishment. I can't remember who it was (Rodney Dangerfield, Don Rickles or someone else) who said something like- "I've been married for 27 years- happily for the first 2 or so."
---
---