Turtle Supporter
Posts: 4289
Joined: Wed Oct 21, 2015
Location: Western Washington
These turned out great, congrats!
OPEN A COINBASE ACCOUNT AND BOTH OF US WILL GET $10
https://www.coinbase.com/join/593592a00b8e899741fd9dec



---
Gold Supporter
Posts: 516
Joined: Sun Jun 07, 2015
Location: Las Vegas
Contact:
Much Appreciated John! I really try hard!
---
Gold Jester
Posts: 2148
Joined: Mon Jul 25, 2016
Location: PA
Yowza!


*** LOOKING FOR YPS #18s. Please contact me if you have any for sale.***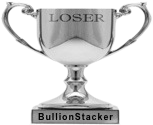 ---
Totem Pole Supporter
Posts: 345
Joined: Sun Oct 12, 2014
Location: San Diego
Wanted: Older YPS 1 oz Hex Yin/Yang & any YPS #21s.
Please PM me to $ell or trade. Thanks




---
Gold Supporter
Posts: 516
Joined: Sun Jun 07, 2015
Location: Las Vegas
Contact:
Thanks Zubie! That 20 ouncer is so fun to pour and I love the way it comes out. Just added a bunch of new pours on pitbullionlv.com
---
---
Return to "Friends of BullionStacker"
Who is online
Users browsing this forum: No registered users and 2 guests