Dunce
Posts: 17516
Joined: Sun Jul 12, 2009
Contact:
---
Constitutional Supporter
Posts: 4724
Joined: Mon Apr 21, 2014
Location: Kansas
Bidding starts at 1 satoshi.

Payment in BTC, LTC, PIVX or ETH?

Very nice!

---
Turtle Supporter
Posts: 925
Joined: Sun Mar 22, 2015
2 sats.....



Looking for Yps Silver Slacker skull #77 I have your replacement skull ready to ship along with something for your troubles $


---
Gold Jester
Posts: 2482
Joined: Mon Jul 25, 2016
Location: PA
Now that's some alternative currency I can get behind.
*** LOOKING FOR YPS #17 & 18s. Please contact me if you have any for sale.***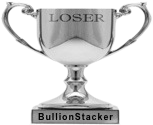 ---
Gold Supporter
Posts: 1438
Joined: Sun Mar 01, 2015
Location: PCB FL
KSA?
Stackin' for the fun of Stackin' 1 oz at a time


---
Gold Supporter
Posts: 1423
Joined: Fri Jul 24, 2015
Location: Los Angeles
---
Platinum Supporter
Posts: 1212
Joined: Wed May 20, 2015
Location: Pacific Northwest
Someone was on the ball. Always an opportunity out there to capitalize on niche markets. I'd likely also be a buyer. Add in BTC as a payment option and I'd be a larger buyer


Seeking Rodebaugh Serial #'s 9 & 23.
---
---
Return to "Bitcoin/Crypto/Blockchain"
Who is online
Users browsing this forum: No registered users and 4 guests